Nintendo Switch Pro Controller
Nintendo Switch Pro Controller has the form factor of a traditional controller, making it more comfortable for gaming for long periods in TV mode and tabletop mode on Nintendo Switch console.
Boasting premium grips and a semi-transparent casing, Switch Pro Controller has the same buttons as the Nintendo Switch in handheld mode and is designed to be held and operated more easily than the Joy-Con controllers.
Nintendo Switch Pro Controller features motion controls, HD rumble, an amiibo touchpoint, a capture button and more. The built-in rechargeable battery provides up to 40 hours of gameplay before a 6 hour recharge gets you back in the game.
Switch Pro Controller connects wirelessly to Nintendo Switch, Windows 10, macOS Catalina (10.15) and Android 10 devices. Use Switch Pro Controller with Titan Two controller adapter for mods & macros on Nintendo Switch, or for cross-console usage on PlayStation 5 (PS4 games only), PlayStation 4, Xbox One, PlayStation 3 and Xbox 360.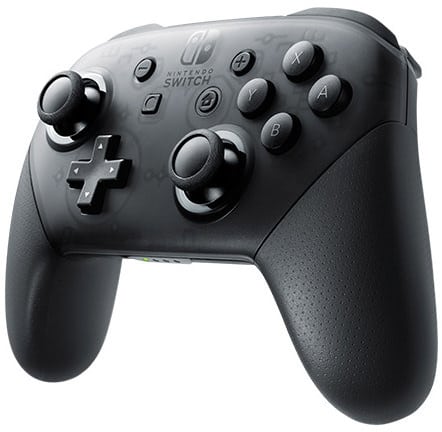 Please review Conditions and FAQ prior to purchase.